Implant-Supported Dentures
---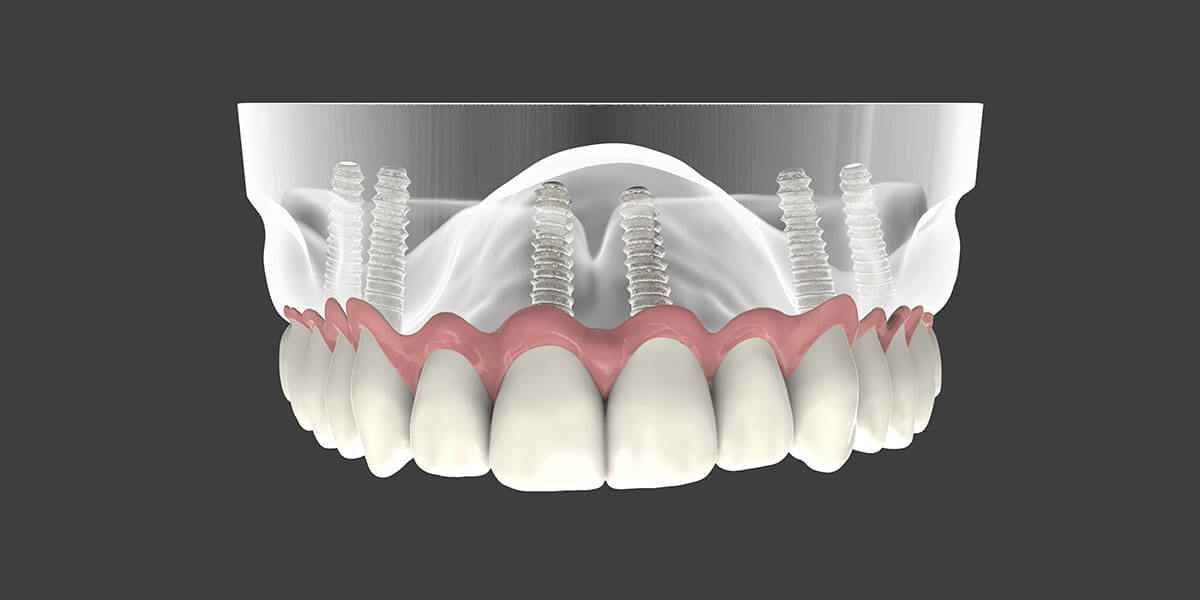 ---
When all your teeth are missing, one great option is choosing an implant-supported denture. An implant-supported denture may be removable or permanently attached.
What is an implant-supported denture?

An implant-supported denture is a full denture that is "clipped into" or attached to dental implants. Typically, at least four strategically spaced implants are necessary to support a full denture in either arch. The implants anchor the dental appliance so that it is securely held in place. Unlike conventional dentures which are held in place by suction and good luck, an implant supported denture offers much more security and increases the quality of chewing and enjoying foods.

Removable or fixed implant-supported denture?

A removable implant-supported denture is often called an overdenture or a snap on denture. It is designed to be removable for cleaning. It is a good option for patients who have lost jawbone. Implant-supported dentures are an improvement over a conventional denture because they are more stable, do not require messy adhesives, do not irritate the soft tissues, and are securely attached to the implant. However, they must be removed at night for cleaning.
A fixed implant-supported denture is not designed to be removed for cleaning. It is only removable by a dentist. Instead, it is cleaned just like your natural teeth.

What are the benefits of an implant-supported denture?

Implant-supported dentures are more stable which reduces the risk that the denture slips and interferes with speech or eating.
Implant-supported dentures look and function more like natural teeth.
Implant-supported dentures make eating easier and increase the choice of foods you can eat. Hard and sticky foods can pull out the denture, but with an implant secure denture you can now eat more of the things you like or that you have been missing.
Implant-supported dentures are more comfortable because a regular denture moves constantly in the mouth creating gum irritation and sores. Because the implanted denture is more stable there is less risk of gum irritation and sores developing.
The implants preserve jawbone. When you wear conventional dentures, jawbone loss is common.
Implant-supported dentures help to provide cheek and lip support that is often lost when teeth are missing.

What are the disadvantages of a fixed implant denture?

Two surgical procedures are needed, one to insert the implants, and a second to secure the implants to the denture.
Healing from implant surgery can take months before the implants are ready to support a denture.
Implants are more expensive than having the teeth pulled and creating a removable denture that is unanchored. However, studies show that implant supported dentures are very cost-effective in the long run
You must have good, quality, sufficient bone for implants. If there is insufficient bone you may need a bone graft to have dental implants placed.
---
References
---
https://www.healthline.com/health/snap-in-dentures
Wittneben JG, Millen C, Brägger U. Clinical performance of screw- versus cement-retained fixed implant-supported reconstructions–a systematic review. Int J Oral Maxillofac Implants. 2014;29 Suppl:84-98. doi: 10.11607/jomi.2014suppl.g2.1. PMID: 24660192.
Fobbe H, Rammelsberg P, Lorenzo Bermejo J, Kappel S. The up-to-11-year survival and success of implants and abutment teeth under solely implant-supported and combined tooth-implant-supported double crown-retained removable dentures. Clin Oral Implants Res. 2019 Nov;30(11):1134-1141. doi: 10.1111/clr.13527. Epub 2019 Sep 9. PMID: 31444828.
Jasser E, Salami Z, El Hage F, Makzoumé J, Boulos PJ. Masticatory Efficiency in Implant-Supported Fixed Complete Dentures Compared with Conventional Dentures: A Randomized Clinical Trial by Color-Mixing Analysis Test. Int J Oral Maxillofac Implants. 2020 May/Jun;35(3):599-606. doi: 10.11607/jomi.7911. PMID: 32406659.
Chrcanovic BR, Kisch J, Larsson C. Retrospective clinical evaluation of 2- to 6-unit implant-supported fixed partial dentures: Mean follow-up of 9 years. Clin Implant Dent Relat Res. 2020 Apr;22(2):201-212. doi: 10.1111/cid.12889. Epub 2020 Mar 11. PMID: 32157812.
Yan Q, Hua F, Shi B. Patients Are More Satisfied With Implant-Supported Mandibular Overdentures Than With Conventional Dentures. J Evid Based Dent Pract. 2017 Dec;17(4):411-413. doi: 10.1016/j.jebdp.2017.10.010. Epub 2017 Oct 20. PMID: 29197445.
Alrajhi MS, Askar O, Habib AA, Elsyad MA. Maxillary Bone Resorption with Conventional Dentures and Four-Implant-Supported Fixed Prosthesis Opposed by Distal-Extension Partial Dentures: A Preliminary 5-year Retrospective Study. Int J Oral Maxillofac Implants. 2020 Jul/Aug;35(4):816-823. doi: 10.11607/jomi.8075. PMID: 32724936.