Before and After
---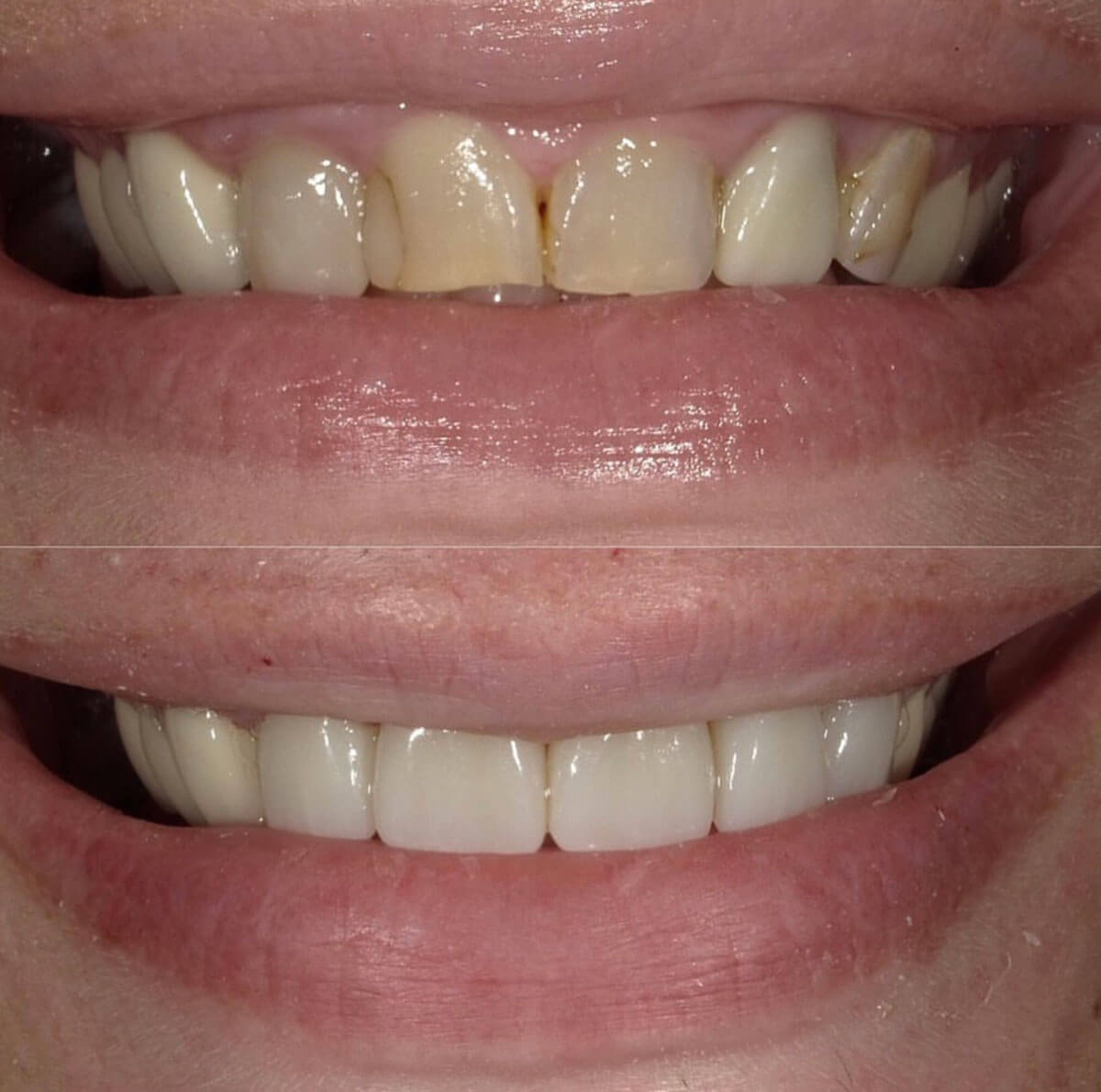 ---
Smile Design Makeover is customized cosmetic dentistry that matches you with your ideal smile.
Chipped, worn, broken, discolored, or missing teeth can all be corrected. Gaps between your teeth or a gummy smile can also be restored to a healthy, attractive appearance. We will design your smile to compliment your features and look completely natural.
---
Porcelain Veneers
---
Of all the methods of cosmetic procedures today, porcelain veneers are among the most popular and successful methods among our dental patients. The process resurfaces your teeth with perfectly shaped porcelain, which brightens and aligns your smile.
Some advantages of our porcelain veneers over bonding (another method of resurfacing and reshaping teeth) include increased longevity, natural beauty, and resistance to staining.
---
Before and After
---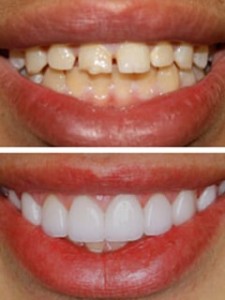 ---
Before and After
---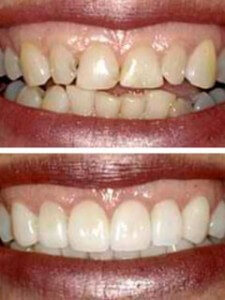 ---
Full Mouth Rehabilitation
---
You deserve to look and feel your best. No matter what your teeth are like, dentistry by Dr. Trombetta can help restore your full oral health through full mouth rehabilitation. The result will be a beautiful smile that is as comfortable and functional as it is attractive.
It may be the answer to many problems, such as broken down restorations, severely worn teeth, sore jaw muscles, and recurring headaches. If you are concerned about the process, our office offers compassionate and gentle treatment. If you need it, we also offer relaxing sedation dentistry to make your full mouth rehabilitation the most relaxing dentistry you have ever received.
---
Before and After
---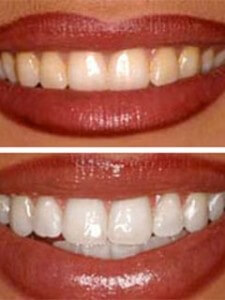 ---
Teeth Whitening
---
Before and After
---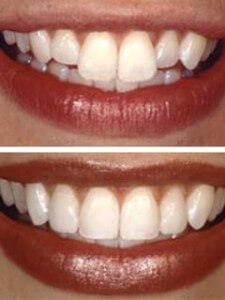 ---
Dental Bonding
---
What is a complete smile makeover?

A complete smile makeover is customized cosmetic and restorative dental care that will provide you with a fully restored, healthy and more attractive smile. It involves the use of various dental procedures to restore chewing ability, renew your appearance, rehabilitate your smile and improve your overall health.

Dr. Trombetta will use various treatments to restore chipped, worn, broken, discolored or missing teeth. Gaps between your teeth or a gummy smile will also be treated to achieve that perfect smile. Dr. Trombetta has the expertise to create a plan to restore your smile in function and form that can last a lifetime.

Who is a good candidate for a smile makeover?

People with many damaged, worn or broken teeth, broken and old restorations, missing and misaligned teeth are ideal candidates for full mouth rehabilitation. Every person's mouth is unique, so each person's treatment plan is customized to their needs. This is the answer to all your many dental issues and will restore your mouth to complete oral health.

Full mouth reconstruction for a complete smile makeover

Full mouth reconstruction will combine restorative dentistry and cosmetic dentistry to renovate, rebuild or replace every tooth in the mouth as opposed to single tooth dentistry.

A variety of procedures may be necessary to fully restore your smile. Your treatment may include:

Porcelain veneers - porcelain veneers resurface the teeth with perfectly shaped porcelain which will brighten and align your smile. Veneers can fill spaces between the teeth and create more straightened teeth. They are favored over bonding because they offer a more natural look and are resistant to staining.
Replacing old fillings with tooth-colored materials, crowns, onlays or inlays.
Implants to replace lost teeth and old bridges. Implants are the most popular option to restore lost teeth. The procedure involves surgery to insert titanium posts into the jaw bone, which functions just as a tooth's natural root. When you have healed from that surgery, a tooth replacement will be screwed onto the post. Implants are the most durable and realistic options for lost teeth and once done never need to be replaced again.
Teeth whitening, and any other treatment to reconstruct the mouth to restore function and aesthetics to improve your health and your smile.

What is the smile makeover process?

The first step is a consultation to evaluate your needs and discuss your goals. Dr. Trombetta will perform a complete examination and take digital x-rays to evaluate the health of the teeth, find decay and evaluate bone.  If you have gum disease, that will require treatment as well. If there are missing teeth, your options will include implant surgery.

With the collected information, Dr. Trombetta will develop a personalized treatment plan. You will come back for presentation of the treatment plan and discuss costs. Importantly, full mouth reconstruction can be expensive and take time. Dr. Trombetta, her office manager or patient care coordinator will discuss the financial aspects with you. We will discuss treatment options that vary based on your needs, goals and your budget.
Dr. Trombetta offers sedation dentistry to make your full mouth reconstruction a more comfortable experience. Your smile makeover will give you the confidence of a great smile and complete oral health that can last a lifetime.
Contact Marana Dental Care today to schedule a consultation and learn about all your options to achieve a smile makeover.