Dental Implants
---
According to the National Institute of Dental and Craniofacial Research, Americans between the ages of 50 and 64 have lost on average six teeth. 10% of people over age 50 have lost all their teeth, and by age 75, one in three Americans will have lost all their teeth.
Since the 1960s, dental implants have evolved into a reliable, predictable solution to replace missing teeth. Dr Trombetta recommends dental implants because they best mimic your natural teeth, visually and functionally. According to the American College of Prosthodontists, about 2.3 million single crown implants are placed annually. Compared to other tooth replacement options dental implants are cost-competitive when you consider the long-term cost effectiveness, long-term oral health and quality of life they offer.
---
Single Tooth Dental Implants
---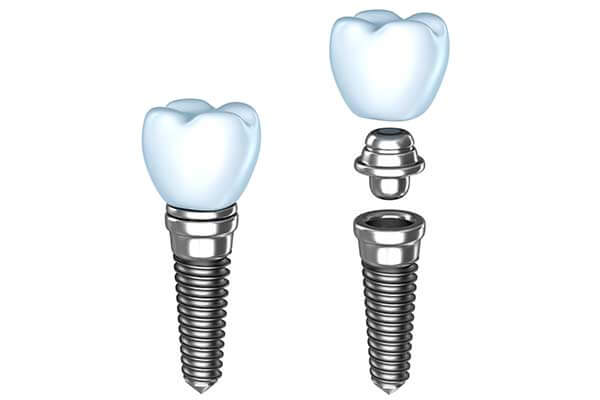 ---
Dental implants replace tooth roots in the mouth. Implants provide a strong foundation for fixed or removable replacement teeth and can aid in the prevention of bone loss in the jaw.
---
Implant Supported Bridges
---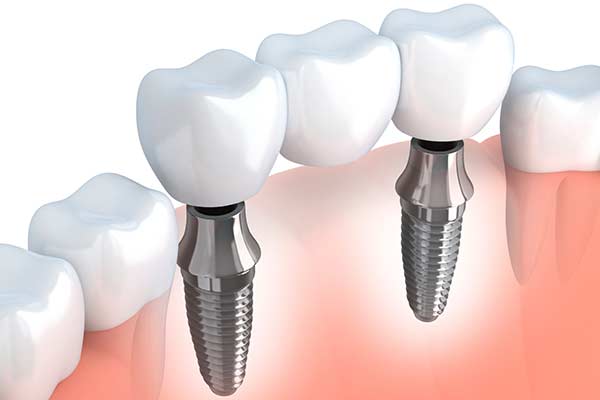 ---
An implant supported bridge is a restorative solution for spaces where three or more adjacent teeth are missing. This restoration typically requires two implants to support the porcelain bridge. The bridge provides a functional and aesthetic replacement for a patient's natural teeth.
---
Implant Supported Dentures
---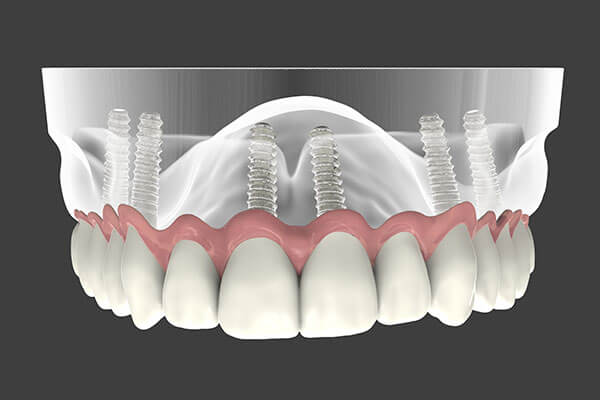 ---
For patients who are missing many or all of their teeth, implant supported dentures may be an alternative to traditional dentures. This solution requires the placement of two or more implants. In order to replace a full arch denture, a minimum of four implants is generally recommended. Eligibility for this solution is dependent upon a number of factors, with jaw bone density being one of the most significant determining factors.
Traditional dentures rely on an acrylic base that sits directly on the gums, held in place by a paste or adhesive. Using implants as supports for dentures allows for a smaller and more comfortable base and less shifting of the prosthesis during use.
Implants can support both full and partial dentures as well as both fixed and removable dentures.  If a removable denture is selected, the denture will "snap" on to the implant rather than requiring the use of denture paste or adhesives.
---
Full Arch with Only Four Implants
---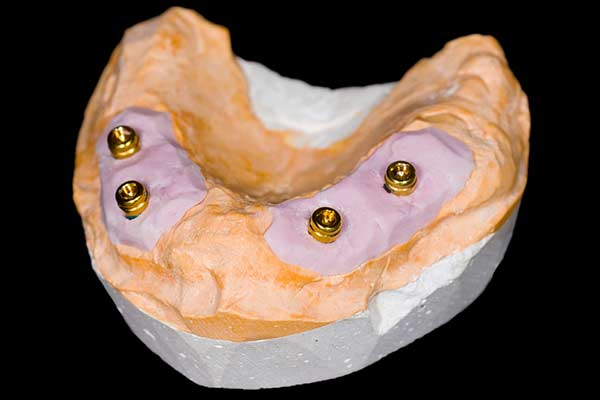 ---
This procedure is a unique implant solution that allows patients with a completely edentulous (toothless) upper or lower arch to replace all of the teeth in that arch using only four implants as anchors.
---
What are dental implants?

Dental implants are root shaped screw-like anchors made of a biocompatible metal called titanium that are implanted into the jawbone, usually immediately after tooth extraction. The implant provides a strong foundation for a fixed tooth replacement. The anchors fuse to bone over the course of a few months. Implants also help to prevent further deterioration of bone, and bone loss. Importantly implants are available for people born without a tooth or lose a tooth or teeth due to injury, infection or decay.

What are the benefits of dental implants?

Benefits include:

lifetime solution
bone preservation
fewer diet restrictions
do not affect neighboring teeth
look and feel natural
no discomfort from ill-fitting dentures or bridges

What happens when you lose a tooth?

Over time, the bone around the lost tooth will begin to diminish and disappear. When jawbone is lost it can change the shape of your face. A dental implant preserves and stimulates bone growth, prevents bone loss and prevents a change in the shape of the face. Dental implants are the only kind of tooth replacement that stimulates bone growth and actually prevents bone loss. The process in which an implant becomes part of your jawbone is called osseointegration, and is a significant breakthrough in modern dentistry.
The loss of even one tooth can make it difficult to chew your food which means you are not getting all the nutrients out of your food. Difficulty chewing can also lead to a poor diet, weight gain and an increased risk of heart disease and diabetes. Implants can restore the ability to chew well and improve the ability to benefit from nutritious foods.
Missing teeth are embarrassing, impact self-confidence and may alter your smile and ability to speak well. Dental implants can help restore your smile and self-confidence.
Dental implants are an investment in your health which can motivate you to improve and maintain good oral hygiene.

Why choose dental implants?

Dental implants look, feel and function like teeth. For aesthetic reasons they will provide an improved smile and better chewing for improved digestion and health.

Who is a good candidate for dental implants?

Patients who are in good medical health, including some chronic diseases like diabetes that are under control.
Patients who have good quality bone. Bone quality can affect the stability of the implant which can take six months or more to integrate with existing bone.
Patients with good oral health. Patients who do not have good oral health must commit to achieving and maintaining good oral health to be considered a good candidate. Poor oral health can cause tooth loss and implant loss.
Patients who have a history of bad habits such as teeth grinding or smoking, could affect the outcome of the treatment. Tooth grinding can result in tooth wear and even fracture the natural tooth and the implant. Smoking impacts blood supply to the gums and bone and affects Poor blood sugar control also causes poor healing and increases the risk of infection. Dr. Trombetta will work with those patients to help improve their oral health before proceeding with implants
Contact Dr. Trombetta at Marana Dental in Tucson to schedule a consultation to learn more about dental implants. She will review your dental health, explain the process and answer your questions.
---
Resources
---
American Academy of Implant Dentistry - http://www.aaid-implant.org/
www.aaoms.org › images › infographics › dental_implant_surgery
Esposito M, Grusovin MG, Worthington HV. Interventions for replacing missing teeth: treatment of peri-implantitis. Cochrane Database Syst Rev. 2012 Jan 18;1(1):CD004970. doi: 10.1002/14651858.CD004970.pub5. PMID: 22258958; PMCID: PMC6786958.
Misch CE, Perel ML, Wang HL, Sammartino G, Galindo-Moreno P, Trisi P, Steigmann M, Rebaudi A, Palti A, Pikos MA, Schwartz-Arad D, Choukroun J, Gutierrez-Perez JL, Marenzi G, Valavanis DK. Implant success, survival, and failure: the International Congress of Oral Implantologists (ICOI) Pisa Consensus Conference. Implant Dent. 2008 Mar;17(1):5-15. doi: 10.1097/ID.0b013e3181676059. PMID: 18332753.
Darcey J, Eldridge D. Fifty Years of Dental Implant Development: a Continuous Evolution. Dent Hist. 2016 Jul;61(2):75-92. PMID: 29894046.
Elani HW, Starr JR, Da Silva JD, Gallucci GO. Trends in Dental Implant Use in the U.S., 1999-2016, and Projections to 2026. J Dent Res. 2018 Dec;97(13):1424-1430. doi: 10.1177/0022034518792567. Epub 2018 Aug 3. PMID: 30075090; PMCID: PMC6854267.
https://www.bostonmagazine.com/sponsor-content/did-you-know-that-by-age-50-americans-have-lost-an-average-of-12-teeth/
https://www.prosthodontics.org/prosthodontists-offer-solutions-to-baby-boomers-facing-tooth-loss/
https://www.gotoapro.org/facts-figures/#:~:text=Procedures,supported%20crowns%20are%20made%20annually.