In Office Teeth Whitening
---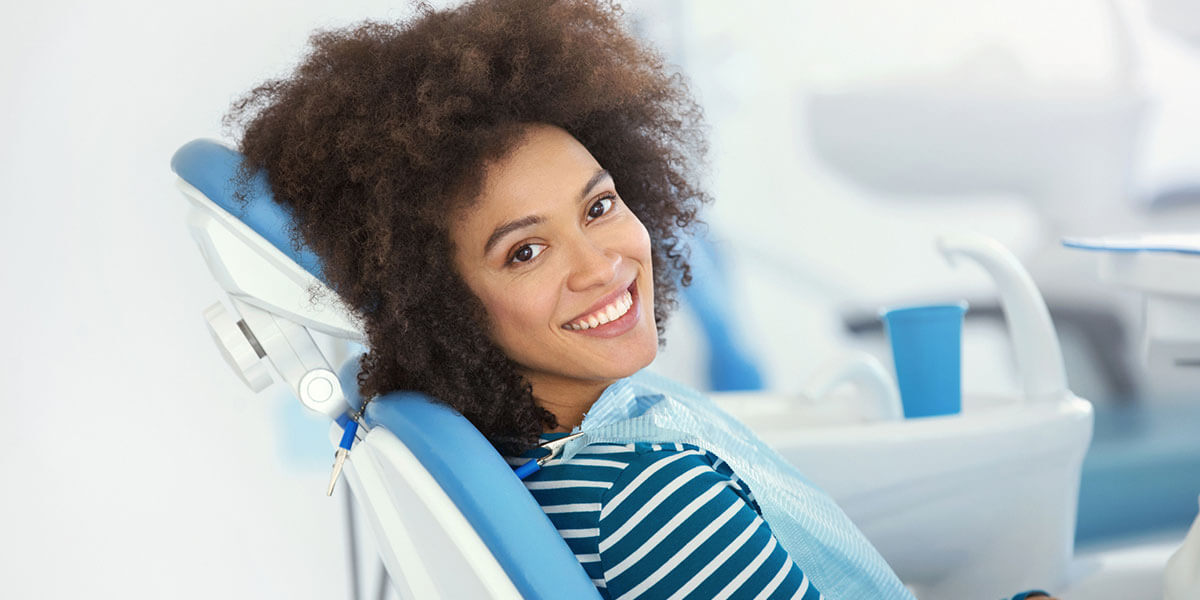 ---
Tooth color, like hair and eye color, is inherited.  The actual thickness of the enamel, the outermost layer of tooth, is also inherited. The underlying structure called the dentin is naturally yellow. The enamel is translucent, and dentin shows through the enamel and determines the color of your teeth.
---
What causes teeth to become discolored?
---
Teeth become discolored with age, illness, injury, smoking, food and drink. Some people inherit a disorder that causes tooth discoloration. Teeth can also be permanently discolored by ingestion of certain medications used in childhood; by chemotherapy; and by medications for blood pressure and other medical conditions. Nevertheless, you can achieve a bright white smile with in office teeth whitening.
If you desire whiter and brighter teeth in office teeth whitening can renew your smile. Because the procedure is controlled in the dental office, a higher concentration of the bleaching substance can provide safe, controlled, and discernable results.
In office teeth whitening can make a dramatic difference in a short amount of time. It is the safest form of bleaching. Results are fast. Sensitivity of teeth and gums is controlled during the procedure. Usually just one office visit is necessary.
---
What does in office teeth whitening treat?
---
It can treat stains and yellowing caused by aging, food stains and tobacco stains.
---
Who is a good candidate for in office teeth whitening?
---
People whose teeth and gums are not hypersensitive. People with hypersensitive teeth would do better with at home whitening because it uses a lower concentration of bleaching agent.
In office whitening cannot treat stains caused by drugs that darken the dentin, trauma that darkens the dentin, and excessive exposure to fluoride which causes fluorosis that causes white spots on the teeth. In those cases, porcelain veneers, bonding and crowns are the proper choice to restore tooth color.
---
The procedure
---
You will receive a full mouth examination to identify any decay, cracks, etc. that could become irritated if bleached. When a condition is found, it will be likely that Dr. Trombetta will recommend repairs before bleaching.
First, your teeth will be cleaned to remove all surface stains on and in between the teeth. Next your gums will be covered with a protective gel or a rubber shield to guard the soft tissues from irritation. You will be asked to wear a special pair of glasses to protect your eyes from the bleach and light.
The bleaching agent containing carbamide peroxide will be applied and a specialized light is used to enhance the action of the bleach. The bleaching agent is this left on for up to 30 minutes.  The teeth will be checked periodically to see how the bleaching is working. When the desired level of whitening has been achieved, the bleaching agent is washed off.  The full effects will be noticeable after several days.
If the desired result has not been achieved, Dr. Trombetta may recommend home bleaching or another in office bleaching procedure. If home bleaching is recommended, she will make customized trays for your mouth to fill with bleaching agent at home.
In office bleaching uses a higher concentration of bleaching agent than is safe for use at home. However, bleaching doesn't mean you teeth will remain eternally whiter. To maintain whiteness, you may choose to use at home whitening on a monthly basis.
Contact Marana Dental Care to schedule a consultation to learn more about in office teeth whitening.
---